We Offer High Efficiency Air Conditioning Systems Repair, Installation And Maintenace In North And Central NJ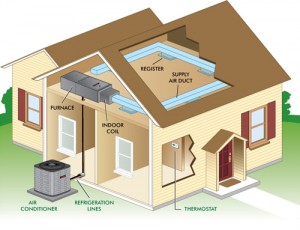 For heating and cooling systems that are not in good condition, inefficient and are 10 years old and above, it is high time that you get them checked by expect technicians and specialists at All Week Air Conditioning. If your HVAC is already eating up you electricity bill, then, you might want to get an even better replacement for it. And when looking for the right unit, get one that is ENERGY STAR labeled. An energy efficient unit will not only provide you with excellent results, it will also save more over $200 every year. But before you decide to get your oil cooling system, make sure to get your home checked and inspected first so that if ever air leakage exists it could be given the adequate attention and repair.
Using High Efficiency Air Conditioners And AC Systems Benefits For Cooling Saves A Lot On Utility Bills
It is always a wise decision to replacing your old cooling equipment with a newer, more energy-efficient one. And for maximum, optimum performance, get your cooling system installed properly because a poorly installed one is as good as letting your oil cooling system still function. Contact us at Equator HVAC and help you get the best cooling system working for your home.