We Provide Mini-Split Air Conditioning Installation, Repair & Rplacement Service All Over North & Central New Jersey! We Support All Major Brands!
What is a ductless split AC system?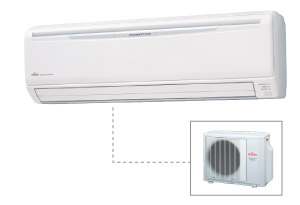 Air conditioner with a split system is made up of indoor and outdoor units, each functioning to complement one another. The indoor part serves as the furnace, while the outdoor part is the air conditioner that functions to keep the air circulating inside the house. With a split system, the air conditioner exhausts hot air inside the house, thus, eliminating it to let the cool air circulate instead. If you are looking for a team to install split air conditioning system, you have come to the right place. We provide services for split-system central air conditioner (for cooling only) or heat pump ( for heating and cooling), which include electrical supplies, pads / bases, line sets, system protectors, line set covers, installation supplies packages, mounting brackets, condensation control products and many more! Contact us for more details.
Ductless Hvac Is The Way To Go, For More Effective And Economic Cooling
I f you have determined the need for a new air conditioning or cooling system for your home or office, then ductless mini split system should be the top of your choices list. A mini split ac system helps boosting your homes energy and efficiency thus creating a comfortable environment for everyone. Just like the traditional central forced air system, the ductless mini split system can effectively heat or cool your home thus giving it the temperature that is conducive for everyone. It features indoor units that are usually mounted on the wall to provide excellent heating and cooling in the house.
Ductless mini split system installation NJ
The main reasons why All Week AC experts recommend split ac systems is because they're very easy to install and if well maintained then it can last for up to 20 years or more. However, for this system to remain durable, then you must have proper yearly maintenance that will help keep it in good condition for a long period of time.
North Jersey residents looking to install  a high quality zonal air conditioning and cooling system without duct for your premises, then you can count on our expertise in ductless splint system installations and service.
We will advise on what type of split air conditioning system would be the best fit for your home structure as well as for your budget. We always recommend the most durable well reviewed and mostly test by our expert AC systems, we'll only recommend units that are efficient and long lasting. Beside that we'll take care of the installation, warranty covered support, repairs when needed and yearly maintenance.
Do not hesitate to contact us and find out if ductless split ac systems are what you need to complete your home comfort this summer.
Serviced Mini-split Ductless AC's Brands
Counties we service in Northern NJ around the clock
North NJ – Bergen – Essex – Passaic – Hudson – Morris – Union
Counties we service in Cerntral NJ around the clock
Central NJ – Middlesex – Hunterdon – Mercer – Monmouth – Somerset – Warren – Ocean – Sussex