---
What the cost of recharging an ac units with the right refrigerant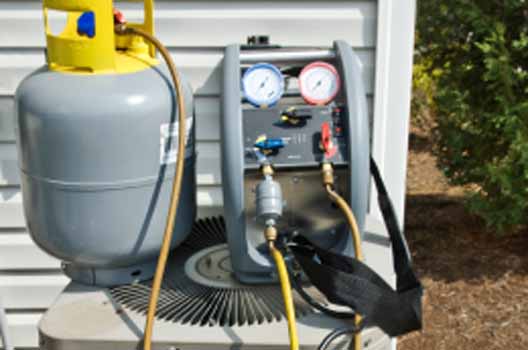 A refrigerant is a unique component of an air conditioning system. Any problems involving refrigerant such a leak or low levels may cause mal function of the overall air conditioning system and needs to be properly checked and charged/replaced if necessary depending on the lifespan or workability of the refrigerant.
To charge an AC unit with Freon, you will definitely need the services of a skilled technician considering the fact that ac system is a closed unit. The whole ac system will be thoroughly checked for other problems apart from the refrigerant levels. There needs to be a proper check on the refrigerant levels and advice on the amount of charge needed using a digital scale known as superheat and sub cool for adding exact amount of refrigerant to the air conditioning system.
The following are prices for refrigerant charging service:
Setup fees and charging of first lb of R-22 refrigerant for a one off customers = $104
Set up and charging fees for first lb of R-22 for buying customers with service/maintenance agreement=$88
Later recharging of lbs-R-22 refrigerant for one off customers =$72
Later recharging or subsequent charging for repeated customers with service agreement= $61
The above is more like the charges for a charging with Freon. Other models and makes could be more.
Generally, cost ranges between $110 – $250 for recharges depending on the systems and a typically charge cost. For wider and expensive repairs that may likely take longer hours necessitating replacement parts, it may cost more than $1000.
Let's consider the below as possible costs for recharging by another service company:
Service call fee which may be waived by some service companies: $49
Charging for the first 3 lbs of Freon: $120
Subsequent charging of 6-15 lbs: $50
Cost accrued by detecting and repairing leaks: varies
Cost of possible replacement of items: varies
Cost to get the type of Freon needed either R-22 or R-410
If your central or split ac unit is older than 10 years, get a replacement as repairs or maintenance may be more difficult with time.