---
ac repairs Garfield NJ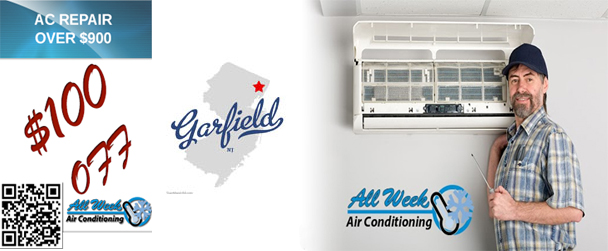 A great deal of people love to live in Garfield NJ because it is a nice place to occupy all year long. By having an air conditioning system, your home will be an elegant place to live no matter the season. The only problem is that your air conditioning system can get spoiled. If that happens, don't panic because AC Repairs expert are just but a call away. It is true to say that they are several of them but all week air conditioning standout because they have been service people of Garfield NJ for many years. Their years of experience,expertise and affordability gives them an undoubted edge.
residential ac repairs and Service Garfield NJ
Air conditioning systems can never fail to be installed in residential areas of Garfield NJ. Homeowners enjoy its service but they don't have a clue of what to do when they fail to respond. If that happens, don't wander into despair when a call away can get it fixed no matter the time of the day or night. By call all week air conditioning, be assured that they will be at your home after a couple of minutes and get it fixed. Don't get yourself into hassles of trying to fix it when an expert is just near you.
Commercial AC Repair Service Garfield NJ
Commercial premises must always be handled by big services in most of their work to avoid any shortfall. Air conditioning installation is a job that must be done to commercial properties. The owners will not seek services of small ac technicians because they may never get the job done. Relax! The all week air conditioning is here to help and by consulting with them, it won't take long before your premise is fully air conditioned. Why don't you call them today and see how they will help you?

More Ac repairs resources