ac repairs Caldwell NJ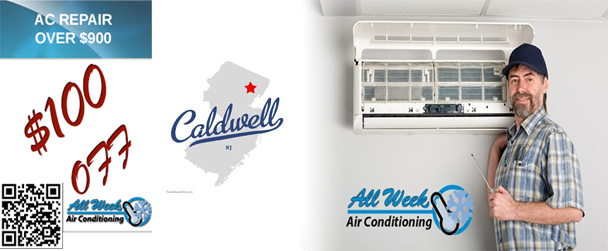 Summer is such a great season, providing many opportunities to get outside and enjoy the sunshine. However, there are those days that are simply too hot to enjoy. That's when you crank up the AC and stay inside your Caldwell NJ home. Utilizing the services of All Week Air Conditioning Company will ensure an energy efficient residential air conditioning system year after year.
AC Repairs, On Call!
Our team is here to provide customers with a reliable AC repair service anytime of the day or night. 24/7 emergency service is something that we're pleased to provide our customers in order to help them stay comfortable in their homes. We're the NATE certified team that is also licensed & insured, ready to assist whenever you may need us.
residential ac repairs and Service Caldwell NJ
Air conditioning installations are our other area of expertise, in addition to repair work and routine service. We work with commercial air conditioning clients, homeowners, building and business owners, and municipalities to install energy efficient cooling components at a competitive price. We support major air conditioner brands, which are the best in the industry, and trusted by millions.
AC installations include:
Central cooling system, including installation of duct work and vents, if necessary
Energy efficient compressor installed correctly outside of the home
Thermostat installed for efficient temperature control
commercial ac repairs and Service Caldwell NJ
We'll arrive on time and perform the installation with no inconvenience to you. An estimate for the cost is provided so that you can make the right choice for your family and your home. We test the system after doing air conditioning installations to make sure that every component is working as it should.
We always strive to satisfy our customers by going above and beyond their expectations. Contact the air conditioning service that cares for you, and keep cool in New Jersey this summer!

More Ac repairs resources
More Ac repairs repair service in Essex County NJ