ac repairs Bloomfield NJ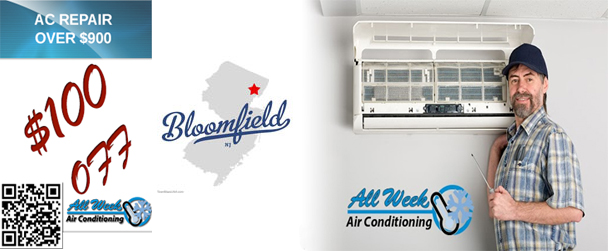 When the temperature rises, you expect your residential air conditioning to run efficiently. If you aren't getting relief in your home, it's time to contact All Week Air Conditioning Company.
Licensed & insured, we have been assisting customers throughout Bloomfield NJ for three decades. We aim to provide the very best HVAC service for a great price. We never compromise on quality, and with our NATE certified professionals on call, you can rely on us. 24/7 emergency service is just a phone call away!
residential ac repairs and Service Bloomfield NJ
There are many different reasons why air conditioning repairs might be necessary. That is why it's critical to check out your system annually with a visual inspection. For a more thorough maintenance routine, a service tech should be called. We have the diagnostic tools and equipment that are needed to locate damaged parts or potential issues with any aspect of your system. If components of the system are old and outdated, it won't be providing energy efficient cooling for your home. Potential problems could be:
Inadequate cooling in the building or home
Blocked or dirty air condenser unit
Insufficient refrigerant level
Worn out or dirty condenser coils
Since we support major air conditioner brands, we're able to find the right parts to fix any unit. We also offer a comprehensive plan for annual inspections and service to keep your installed unit running great, year after year.
Commercial AC Repair Service Bloomfield NJ
Why throw money away on an old, worn out system, when you could be saving with an energy efficient model? Our technicians tackle air conditioning installations quickly and affordably, setting up the thermostat and getting your compressor up and running. We can expertly install roof top units that are designed for commercial air conditioning, in addition to our residential services.

More Ac repairs resources
More Ac repairs repair service in Essex County NJ